Simple guidelines and healthy recipes-for-one to make mealtime at home a cinch
You'd think that making meals for one would be easier than cooking up a storm for a hungry household. But seniors often struggle when eating at home on their own.
While that's understandable, it's not the best idea for your health. According to the National Institute on Aging, it's important to "enjoy a variety of foods from each food group to help reduce the risk of developing diseases such as high blood pressure, diabetes, and heart disease."
For tips on healthier dining with fewer hassles, we interviewed Dominic Giroux, National Culinary Director for Holiday by Atria.
"Before becoming National Culinary Director for Holiday at Atria, I spent many years preparing thousands of meals for our residents. My wife and I also raised a family and understand what happens when there are fewer people sitting around the dinner table."
Here is Dominic's simple, sensible approach to successful meal planning, shopping for ingredients, and prepping recipes for one person.
Five tasty tips: Healthy meals for one
Tasty Tip #1: Meal planning made easy
Cooking for one seems like it would be simpler than preparing meals for two or more people. So, what makes it a challenge for many seniors?
"When you are on your own, it's easier to take the path of least resistance," Dominic Giroux explains. "When others dine with you, you have a reason cook, whether you feel like it or not. But now, you might say to yourself, 'I'm too tired to cook tonight. I'll just nuke something in the micro, or snack on a bowl of pretzels. I'm not that hungry anyway.'"
If this sounds like you, here's good news: With a bit of planning and a little effort, you can eat healthy meals that are fast and easy to prepare.
"Planning is the secret to eating delicious, nutritious meals every day", Dominic says. "Just grab a pen and notepad, or make a little spreadsheet in your computer, and map out your meals for the entire week. Once you get the hang of it, mealtime is simpler — and it's easier to eat better consistently."
One smart idea is to download a free printable weekly meal planner. There are spaces for breakfast, lunch, and dinner for each day, plus a handy grocery list.
"Plan three healthy, tasty meals each day. When you write it all down, you can see at a glance whether there is enough variety, which will help you stick to it," Dominic says.
Many people who cook for themselves like to do their meal planning on the same day each week, often on a weekend day. Once you've picked your meals, the next step is to write down the necessary ingredients.
Dominic has two thoughts on meal planning and grocery shopping.
"First, when you create your weekly menus, think about how your main course from one day, can be utilized in a new recipe with leftovers the following day. For example, if you have ham on Sunday, you could use the ham in an egg white omelet on Monday. Of, if you've made chicken and rice with vegetable, incorporate the leftover ingredients to make a stir fry the next day.
"Second, make things easier on yourself with frozen vegetables or fruit. Stocking these items in your freezer will make mail prep faster while providing more variety."
Combine grocery store trips
Just as it's simpler to plan a whole week's meals at once, it's better to make fewer trips to the grocery store. That's why it's smart to jot down a grocery shopping strategy. Be sure to bring your grocery list. Equally important: Stick to your list and avoid loading up your cart with impulse items.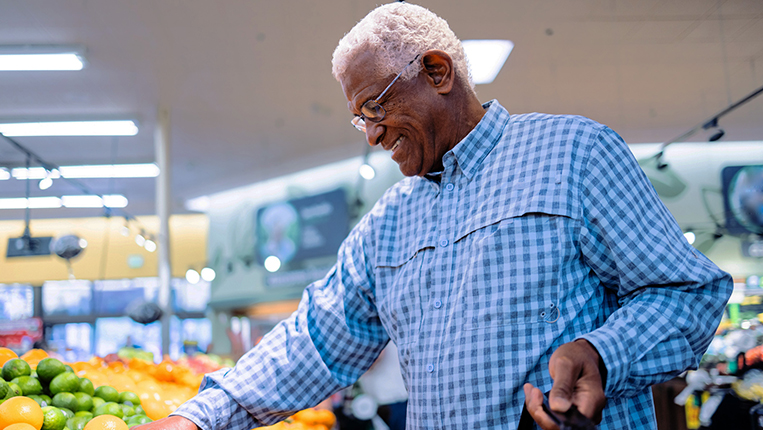 Tasty Tip #2: Thoughts about skipping meals, snacking, convenience foods, and dining out
There are plenty of reasons to skip meals, ranging from "I'm too busy" to "I'm not hungry" to "I'd rather rest and watch TV." Whatever the rationale, unless there is a medical reason, most of us stay healthier eating three meals every day.
Closely related to skipping meals, is the great American pastime of snacking. We snack when we tell ourselves we're too weary to cook a meal. We snack when we're bored or stressed. We snack because, frankly, it tastes good.
Everyone deserves a good snack now and then. But if you find yourself mindlessly munching chips rather than sitting down to a well-rounded meal, it might be time to rethink your priorities.
Convenience foods are, well, convenient. After a long day, it's easy to just heat up a frozen TV dinner. Again, that's fine if you don't overdo it. However, a steady diet of convenience meals, whether heated in the microwave or picked up at a drive-thru window, may add too much sodium — not to mention hidden sugars, and preservatives with names that are hard to pronounce.
Finally, dining out can be fun and delicious. But have you seen the huge portions served in restaurants these days? Two thoughts on this: One, you can request a to-go box and heat it up leftovers the next day. Two, invite a friend to join you for dinner and share a meal.

Tasty Tip #3: Here it is: clear, simple dietary guidelines for seniors
There are a many popular diets out there, from the Mediterranean diet to the DASH diet, to the MIND diet, low carb diets, Keto diets, and more.
But our resident culinary expert offers a simple idea: "Eat balanced meals containing each of the key food groups, including vegetables, fruits, starches, and proteins. Divide your plate into three sections: 25% protein, such as lean meats, seafood, or vegetable protein like beans or tofu; 25% whole grains including wheat, oats, or rice. The largest portion on your plate — 50% — belongs to vegetables or fruit.
Feature fresh, whole foods rather than pre-packaged meals. If you are not a label detective already, do yourself a favor and read the label before putting the item in your shopping cart.
"Go slow with fried and breaded foods," Dominic adds. "Control sugar intake. When enjoying eggs, try poaching them, or include them in a baked dish. Oh, and be sure to drink plenty of water."
Don't shy away from frozen vegetables or fruit. Keeping a supply of veggies and fruit in the freezer makes meal prep faster and easier.

Tasty Tip #4: Quick, easy, healthy recipes for one
These recipes are nutritious and delicious. Try them out and see how quick and easy it is to eat a healthy diet. We highlight the recipes here, but please download the recipe guide below and keep it handy. The recipes include nutritional information, which is helpful if you are on a heart healthy diet, a DASH (low salt) diet, have type 2 diabetes, or if you watch some other health issue. Once you've made these dishes, get creative, expand your horizons, explore more options – and keep on cooking.
Download our healthy recipes
Homemade Granola with Honey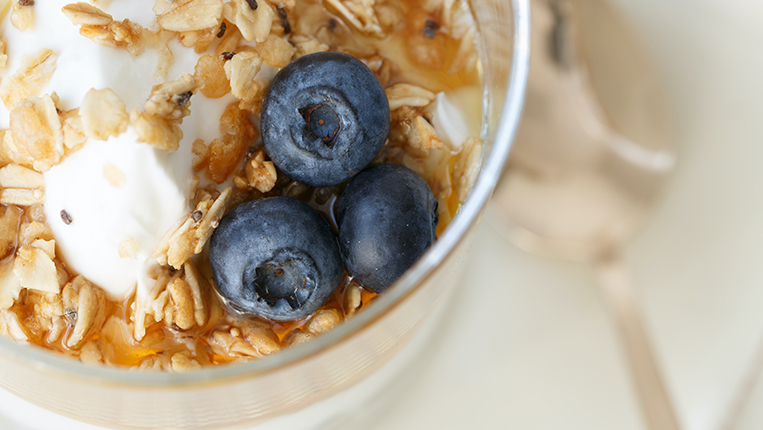 If you've never made granola at home before, it's a real treat. Ingredients include old-fashioned rolled oats, almonds, raisins, honey, a couple of seasonings and a little oil. Prepping the recipe is easy, and the aroma while it bakes is almost as great as how it tastes.
Put your Homemade Granola with Honey in an airtight container and store at room temperature. You can use it in our next recipe – Yogurt and Granola.
Yogurt and Granola
This two-ingredient recipe is as easy as it is tasty. Scoop 1/2 cup of your favorite yogurt into a bowl. Then sprinkle 1 tablespoon of granola on top. We recommend using Homemade Granola with Honey. If you use a store-bought brand, select a low-sugar variety.
Quiche Florentine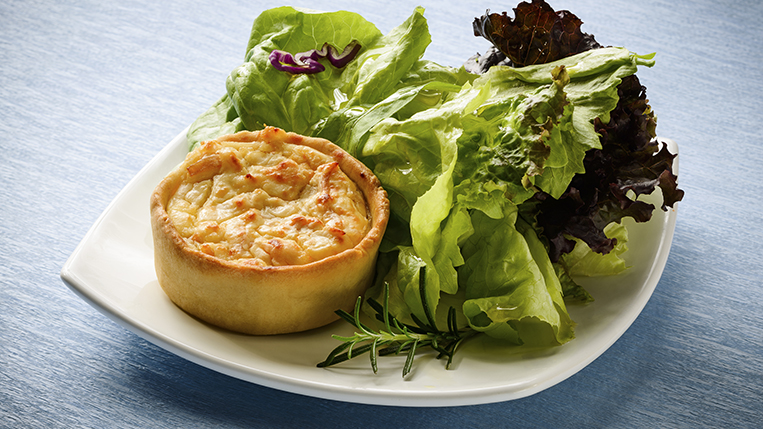 This popular "French pie" works at any time of day. Enjoy it fresh from the oven for breakfast. Serve it chilled at lunchtime along with a side salad. Or try it as a main course for dinner alongside a serving of fresh vegetables.
Quiche Florentine is a classic quiche recipe starring Swiss cheese and spinach. It's surprisingly easy to make and provides balanced nutritional value that's qualifies as a complete meal.
One more serving suggestion: Invite a friend over and share the deliciousness.
Chef's Salad Bowl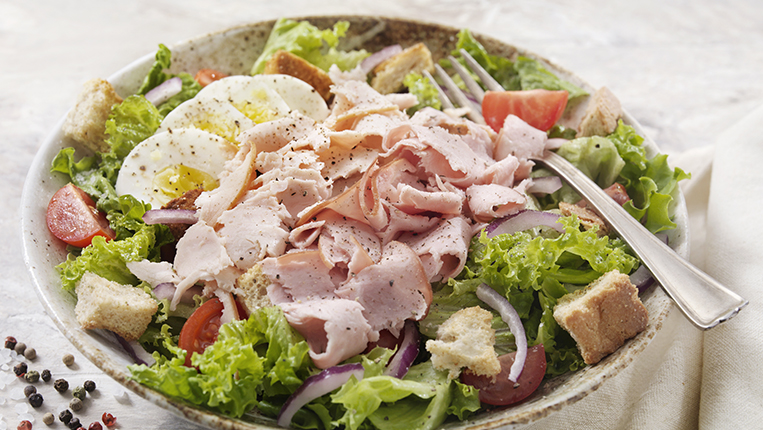 Chef's Salad is a perennial favorite on many restaurant menus. But have you made one at home lately?
It goes together fast – and provides a bowl full of protein (ham, turkey, cheese, and egg) and veggies (this recipe includes romaine lettuce, bell pepper and tomatoes).
Serve your favorite dressing on the side and you're good to go.
Chicken and Fresh Fruit Salad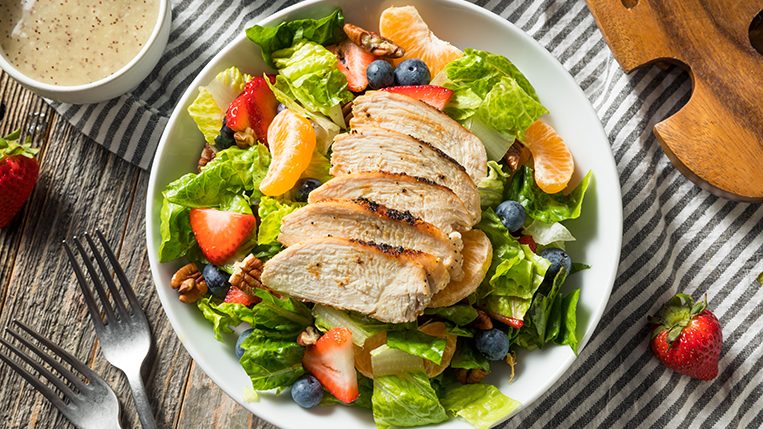 Our Chicken and Fresh Fruit Salad is packed with protein, veggies, and fruit – and works well for carb counters.
You'll start by pulling a boneless, skinless chicken breasts from the freezer. Make our super-tasty marinade — and marinate overnight.
The next day, grill the chicken, then slice it into bite-sized chunks. Add chopped lettuce (try a 50/50 blend of iceberg and romaine) along with fresh fruit such as berries, grapes, mandarin oranges or whatever is in season
Just two more steps to enjoying these easy, healthful dishes: 1) Download the recipe guide below. 2) Start cooking.

Tasty Tip #5: Easy, healthy choices pay big dividends
"You might need to adjust a few habits," Dominic says, "but it will be worth it. The goal is to eat three meals a day, at the same time, on a regular schedule.
"The building blocks of a healthy diet for seniors is basic. Consume plenty of fiber, eat lots of vegetables, fruit, and grains, enjoy lean meats and plant-based protein, and remember to balance your plate according to our 25% protein, 25% whole grains, and 50% fruit or veggies.
"Think about making healthy choices. Try an apple instead of a candy bar. Or grilled chicken and vegetables rather than a pizza. Don't make it too complicated."
Curious about what it would be like to enjoy freshly prepared meals as part of a fun retirement lifestyle? Visit a Holiday by Atria community near you and get a taste of independent senior living.